I respect Onetik for a number of reasons. They're an owner co-operative, and after five years serving the board of a co-op myself I deeply appreciate what that can mean for the care and quality given the products and the animals and land from which they originate. As cheesemakers and distributors go, they're rather large, with annual revenue in the several tens of millions collectively working with 470 farmers producing some 2500 tons of cheese all from a single location in the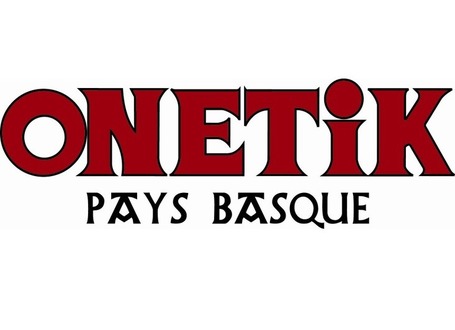 Basque town of Macaye. At this scale many companies would have turned to more commercial processes by now in an effort to grow margins. Instead, Onetik remains focused on traditional, qualitative rather than quantitative approaches, natural rinds and a great deal of hands-on. And they remain dedicated to preserving many traditional recipes and types, especially from the French Pyrénées. Bravo.
One such classic cheese is Onetik's Chabrin, thought to date back almost 4000 years. Interesting to ponder how the cheese of today is in any way a derivative of the original. Safe to say Onetik is at least preserving documented methods from the last couple of centuries if not actually millennia. The cheese is an excellent selection for introducing goat cheese to individuals turned off by "goatiness" and the chalky texture of young chèvre. It's sweet along the rind and fleetingly sharp, mild, a little bit nutty. At room temp, like sheep's milk cheese it can become slightly oily. Pressed à la alpine cheeses to drive out the whey and left to age for at least 90 days, Chabrin is not goaty at all. Tasted blind I'd guess sheep. The texture is firm but creamy and, while not terribly rich, it has depth.
The nose does differ from the mild paste- it can be a bit briny, strong notes of damp cave and minerals.
Chabrin is versatile for wine pairings, try a french Sancerre/Sauv Blanc with similar lightness, sweetness but enough minerality and acidity to cut the fat. Would make an interesting match with wines from the Basque region across the border in Spain; wines from La Rioja Alavesa and Txakoli.
Cheese: Chabrin
Who:  Onetik
Where: France

Milk Type: goat(pasteurized)

Texture: firm

Rind: natural

Shape: ~6 1/2lb wheel

Tasting notes: sweet giving way to to tangy.